Building on the incredible success of the Instax series, Fujifilm has released two new instant cameras within the past year, each with a different film format.
The Square SQ20 is the successor to the original SQ10, whereas the Mini LiPlay is a brand new product that combines images and sound into one package.
Because they are priced so similarly, we decided to put together this comparison to help you figure out which camera is best for your needs. Let's begin!
What they have in common:
a selfie mirror by the lens to help you compose
a 2.7 inch 230k dot LCD monitor on the rear
10cm to infinity focus range
ISO 100 to 1600 sensitivity range (automatic)
-2 to +2 EV range
built-in flash with auto, compulsory and suppressed options and a 50cm to 2m range
built-in battery offering 100 shots per charge
micro USB charging in 2-3 hours
accept micro SD cards
priced at approximately $159 US
---
Ethics statement: We bought the Instax cameras in this article for our personal use. All opinions about these cameras are our own. Within this article, there are affiliate links. If you buy something after clicking the link, we will receive a small commission. To know more about our ethics, you can visit our full disclosure page. Thank you!

---
1. Film format
This first difference could be a dealbreaker if you prefer one film type to another.
The SQ20 uses the larger SQUARE format with a film size of 86mm x 72mm. I personally prefer this format because you can see the details in your image much more clearly.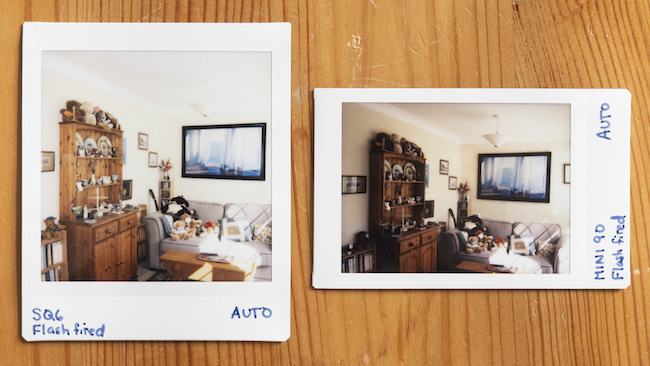 There are benefits to the Mini format that the LiPlay uses however. These 86mm x 54mm prints are the same size as a business card, so you can easily fit them inside your wallet. There are also more photos albums that accommodate this film format, making it easier to keep your prints safe and organised.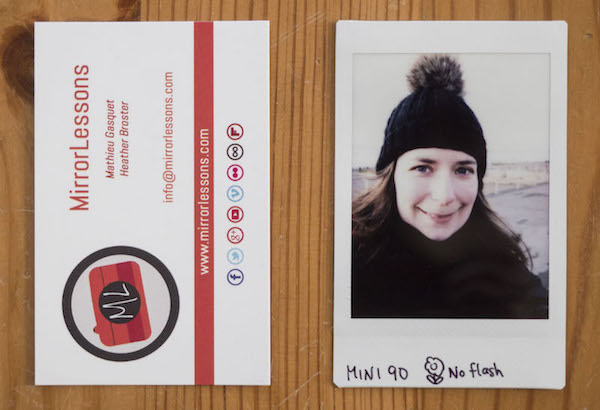 The image area is also bigger on SQUARE prints: 62mm x 62mm versus 62mm x 46mm to be precise.
It takes the prints approximately 12 seconds to emerge from the top of both cameras.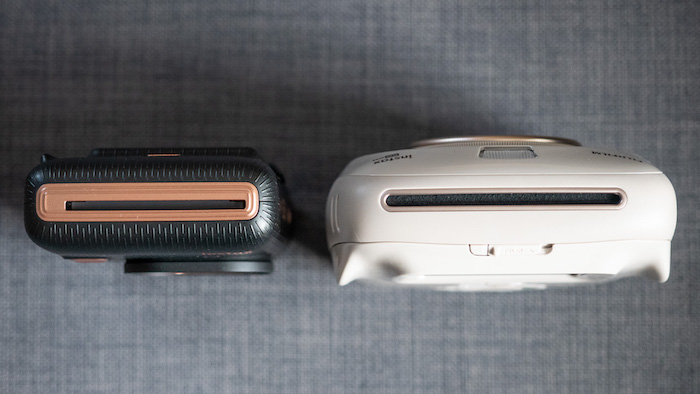 ---
2. Design and build quality
While I prefer the SQUARE film format, I have to say that I'm more fond of the LiPlay design. The camera is stylish, fairly robust and compact enough to fit inside most bags and jacket pockets. It comes in three different colour combinations – elegant black, blush gold, and stone white. As you can see, I went for the black version.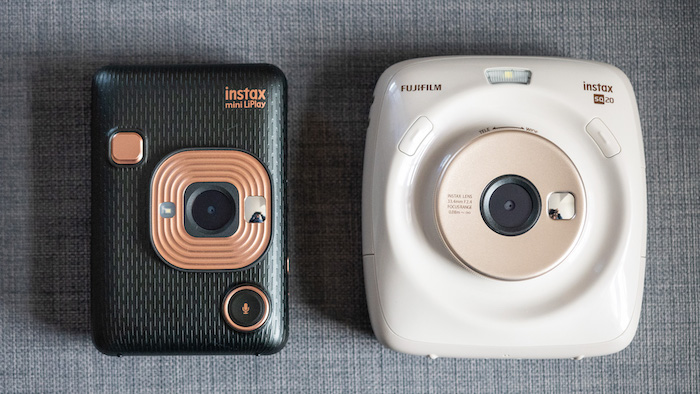 The SQ20 comes in two colour variations – black and beige. I would have chosen the black version but because I found the beige version at a discounted price, I couldn't really turn it down! The build quality appears to be as robust as the LiMini but the smooth surface doesn't provide the best grip. Sadly it's too big to fit inside a jacket pocket. You can see how the measurements compare below:
SQ20: 119 x 50 x 127cm | 390g
LiPlay: 82.5 x 36.7mm x 122.9 | 255g
There are also quite a few differences concerning the button layout of the two cameras.
The SQ20 has not one but two shutter buttons on the front (one for each hand), along with a control wheel on the rear, a textured on-off switch, three buttons to adjust exposure, vignetting and filters respectively, a playback button, a return button, a menu button at the centre of the control wheel, and a print button.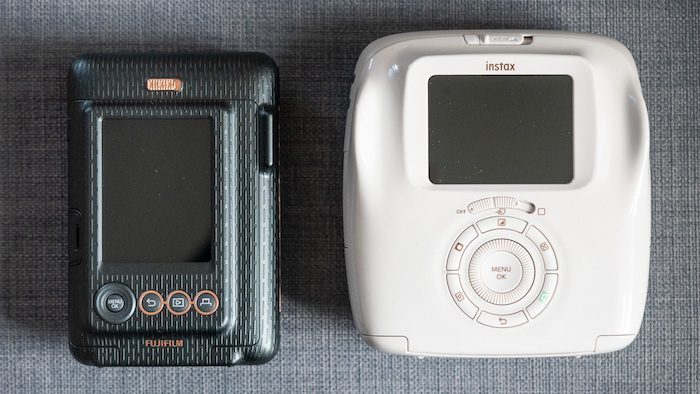 The LiMini also has playback, print, menu and return buttons but it only features one shutter button. Unique to this camera are the record button for audio and three customisable frame buttons on the side.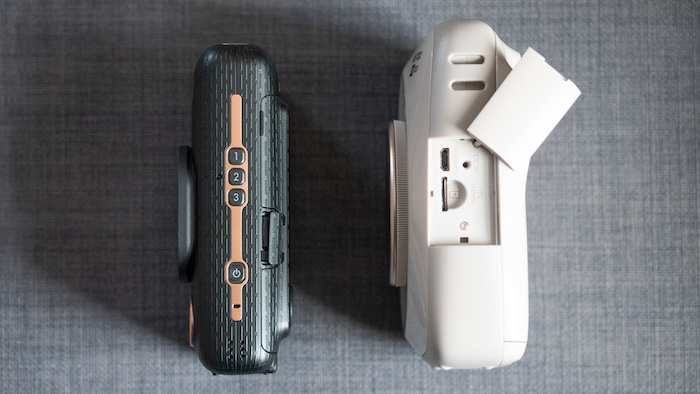 Sadly neither has a tripod mount at the bottom so you can't attach them to a tripod.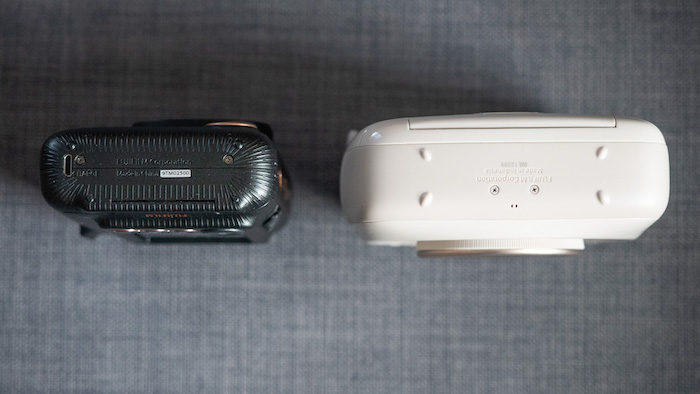 Only the SQ20 has holes on either side to which you can attach a camera strap.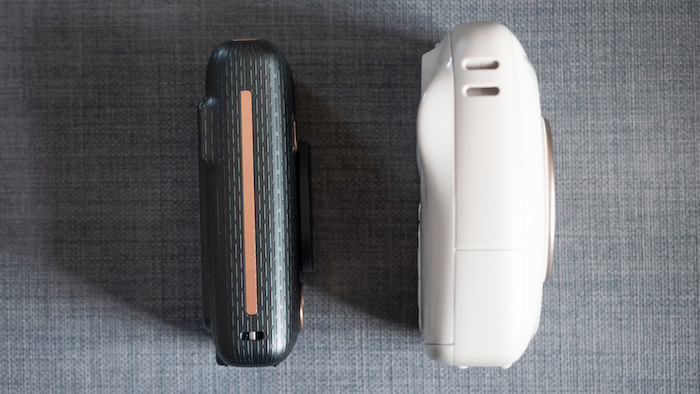 The battery is built-in on both models, so the only way to charge them is via the Micro USB terminal.
---
3. Lens
The LiPlay uses a slightly wider focal length than the SQ20 (28mm vs 33.4mm in 35mm format) but the difference isn't perceivable in your images. The LiPlay also offers a marginally wider aperture of f/2 versus f/2.4 on the SQ20.
Neither lens can physically zoom in or out but the SQ20 does benefit from a 4x digital zoom if you want to get closer to your subject without moving. To zoom while shooting, simply rotate the lens to either tele or wide.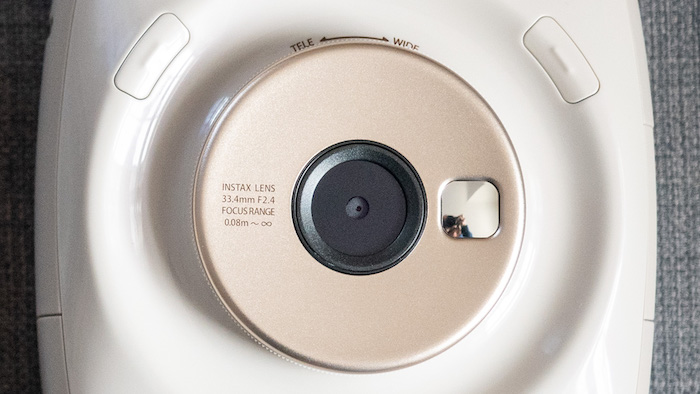 Both cameras allow you to zoom in on your image in playback mode.
---
4. Sensor
The two cameras both use a 1/5 inch sensor but the LiPlay offers slightly more resolution: 2560 x 1920 pixels versus 1920 x 1920 pixels on the SQ20. Because you're printing in such a small format, you won't notice a difference in resolution in your images.
---
5. Shutter speeds
The LiPlay has a shutter speed range of 1/4s to 1/8000s whereas the SQ20's range goes from 1/2s to 1/7500s. Needless to say, the difference is almost irrelevant.
The shutter speed is always chosen by the camera unless you switch to Bulb mode on the SQ20. In this mode, you can tell the camera to leave the shutter open for up to 10 seconds, allowing you to take night shots and interiors without resorting to the flash. Note that this mode cannot be used handheld due to motion blur and as mentioned above, the SQ20 doesn't come with a tripod mount like its predecessor the SQ10, so your only option is to use a flat, steady surface to stabilise it.
---
6. Smartphone app
A big difference between these two instant cameras is that the LiPlay has its own smartphone app called Mini LiPlay. Using this app, not only can you perform functions such as remote shooting and direct printing, but you can also change the frames assigned to the shortcut buttons.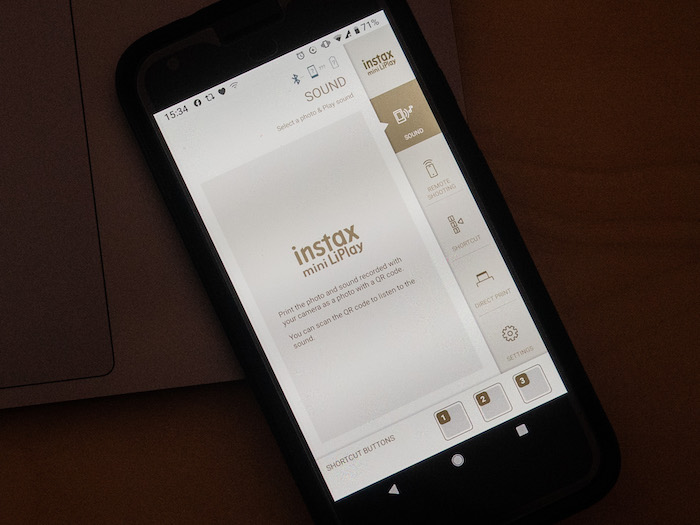 ---
7. Audio and video
The LiPlay is the first Instax camera to incorporate audio into its interface. You can record audio while taking an image or add audio to an image in playback mode. Each soundbite can be up to 10 seconds long. You can also play back audio from a print by adding a QR code to the print and scanning it with your smartphone.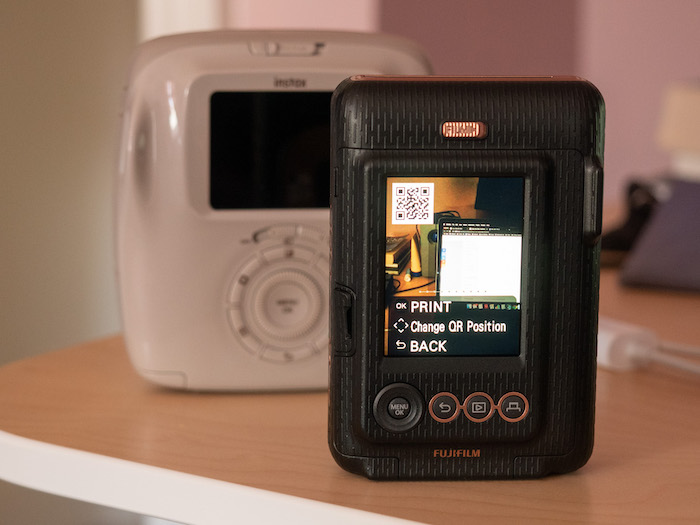 While the SQ20 doesn't have any audio specific features, it does offer video. After recording up to 15 seconds of footage, you can play back the clip and choose your favourite frame to print. If you record for the maximum time, there should be 45 images to choose between.
Both cameras use a contrast detection autofocus system but when shooting movies, the SQ20 switches from S-AF (single autofocus) to C-AF (continuous autofocus).
---
8. Filters and frames
Both cameras come with a rich array of filters for your images.
With the SQ20, you get vignetting and brightness control, six partial colour filters, a total of 15 creative filters for stills and/or movies.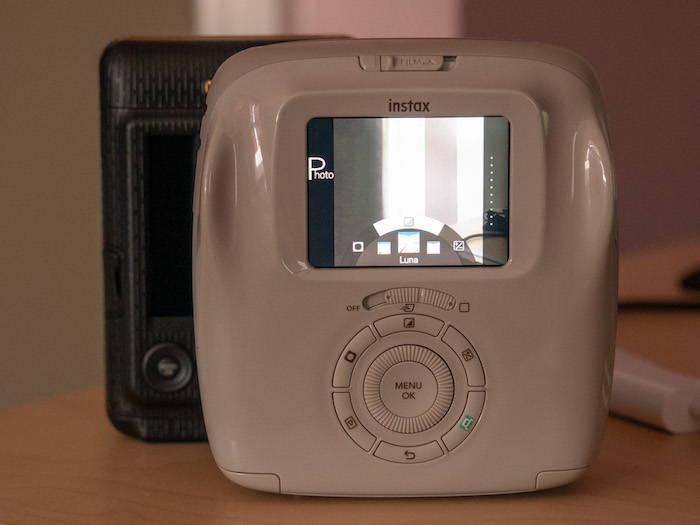 By contrast, the LiPlay offers six filters for stills, in addition to 30 creative frames, ten of which are pre-installed. The rest must be downloaded from the LiPlay app on your smartphone. You can access three of your favourite frames from the three shortcut buttons on the side of the camera.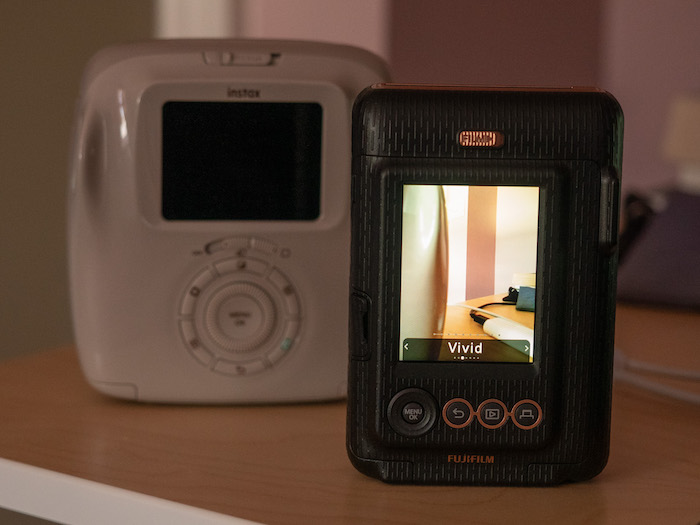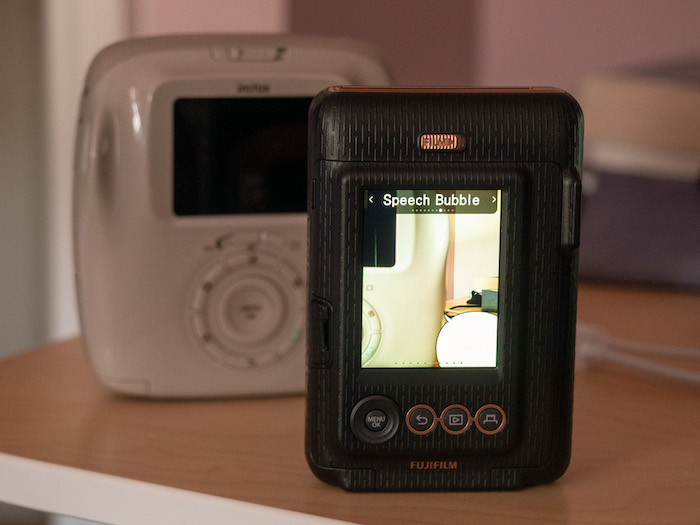 ---
9. Extra features
The SQ20 comes with the following extra features, none of which are available on the LiPlay:
Double Exposure: two different exposures in one shot
Collage: a collage of images
Timeshift Collage: a collage of four images with a time difference of 0.2 to 2 seconds
Split: split the image into sections (between two and nine)
Self Timer: 2 or 10 second delay
---
10. Memory
The SQ20 is capable of recording up to 50 images / 30 seconds of video with its built-in memory whereas the LiPlay can record 45 images. Of course you can increase this number by inserting a memory card.
---
Conclusion
Despite being priced very similarly and having a digital interface, the SQ20 and LiMini are very different products. Whether you should choose one or the other really comes down to what interests you.
If you like creating collages or playing around with extra features like a self timer or bulb mode, the SQ20 is the one for you. The same goes if you prefer larger prints to smaller ones. If however you would prefer to use your Instax camera as complement to your smartphone, the LiPlay may be the better choice.
Either way, they are both fun products to use and will certainly provide hours of enjoyment!
---
Check price of the Square SQ20 on
Amazon | Amazon UK | B&H Photo
Check price of the Mini LiPlay on