Today Fujifilm announced its first Instax Mini camera in over two years: the Instax Mini LiPlay.
Unlike the analogue Mini 9, this new instant camera employs a number of digital features such as a 1/5 inch digital image sensor, a 2.7 inch 230k-dot LCD screen, internal memory storage and a micro SD card slot. In fact, it bears a stronger resemblance to the hybrid Instax Square SQ10 and SQ20 than any of the Mini models, albeit in a smaller, more compact form.
As you'd expect from an Instax product, it comes in three colour variations: blush gold, elegant black and stone white.

The biggest advantage of a hybrid Instax camera like this is that you can review your images on the LCD screen before you commit to printing them. With analogue Mini cameras, by comparison, you might end up taking two or three shots before finally producing a picture that you're satisfied with, which results in a lot of wasted film!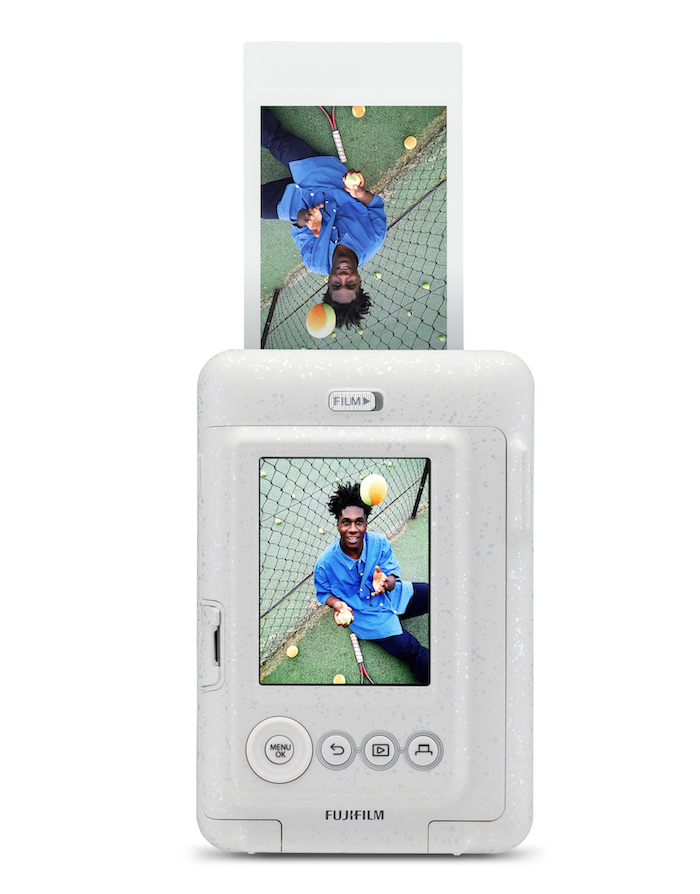 You can also customise the photos with one of up to six filters (B&W, stylish, fisheye, vivid, poster or sepia) and up to 30 frames from the smartphone app. Ten of these can be installed on the camera and three can be assigned to the camera's shortcut buttons.

What sets the Mini LiPlay apart from all other Instax cameras is the fact that it allows you to record an audio clip of up to 10 seconds for each shot. These recorded sound bites can be converted into a QR code that is then printed onto the photo. By scanning the QR code with your smartphone, you can replay the sound clip and relive the moment whenever you like. I'm not sure if I'd ever use a gimmick like this myself but I'll reserve judgement until I actually try it!
With the LiPlay, you have the choice of printing directly from the camera or from your smartphone via the app. There is also a 'Direct Print' feature that allows you to print any image on your smartphone, regardless of whether it was taken with the LiPlay or not. Your smartphone can also act as a remote control for group shots, with self timer options of either 2 or 10 seconds.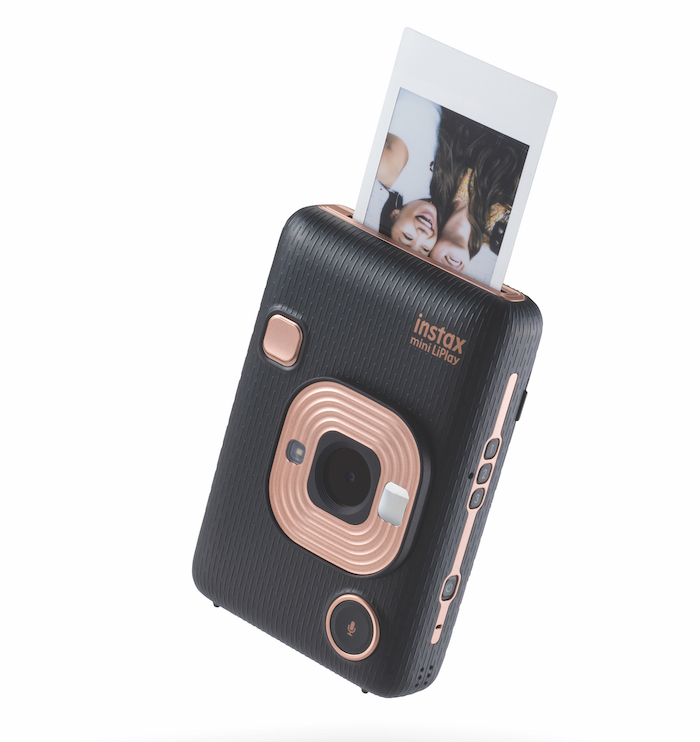 The LiPlay comes with a built-in lithium-ion battery that must be charged via Micro USB. Note that on a single battery charge, you can print approximately 100 shots.
Although you can manually adjust exposure between -2 and +2 EV, everything else from shutter speed to ISO is controlled automatically by the camera. It has a fixed 28mm lens (35mm equivalent) with an f/2 aperture and 10cm minimum focus distance, as well as a built-in flash that can be left to auto, forced to fire or suppressed.
At around 225g, the LiPlay is the smallest and lightest Instax Mini camera on the market today. It will go on sale from June 14th for a retail price of $160 US. We're looking forward to being able to test it soon!